With this being the 25th anniversary of Ghostbusters, lots of companies are jumping on the licensing bandwagon and releasing new Ghostbusters merchandise. Some of it excellent, some good, some okay, and some pure crap. I thought that I'd spotlight a few items that I bought for myself, which I think are good or interesting enough to tell everyone about.
Hallmark Ecto-1 Ornament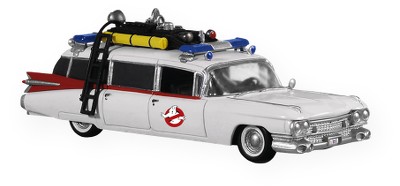 Released just in time for Summer at Hallmark Stores all across North America is this awesome Ecto-1 musical Christmas ornament. It's apparently the version seen at the beginning of Ghostbusters II (though not in decrepid condition), judging by the 1989 Liberty-style license plate. According to
Alex Upton
it's a pretty faithful recreation even though some of the colors aren't exactly movie accurate (I didn't do any comparisons, so I'll take his word for it). You put the three included disc batteries inside the compartment on the bottom (you need a small screwdriver to unscrew it), and push the little red button on top to play the Ray Parker Jr. theme tune. In that regard it seems like it's the "deluxe model" of the Ecto-1 keychain from the
GBVG Wii Slimer bundle
, except that one plays a siren sound effect. Since the wheels move, as noted in
Hallmark's many
pre-release ads
, you could even use the ornament as a glorified Matchbox/Hot Wheels car! It retails for $18.50 USD and should be found in just about any Hallmark Store. It's listed on Hallmark.com, but they don't allow you to buy it - just add it to your wish list. Below is a small gallery of images I did: a photo of the car and box front, a scan of the box front, and a scan of the box back and bottom (and an additional image I found online). Below that is the text blurb on the back. Slimed84 has also
taken his
own photos
; and if that's not enough for you, be sure to check out
Alex Upton's video
of the car with its audio playing.
Is there something strange in your neighborhood? If so, you may hear the unmistakable siren of the "ECTO-1" as it speeds the Ghostbusters to the "scene of the slime." In the hilarious 1984 comedy, this modified 1959 Cadillac became a common sight around New York City as ghost sightings sky-rocketed and the team of apparition apprehenders chased down everything from a green glob of goo to a skyscraper-sized marshmallow man. Whatever kind of ghosts you've got, the ECTO-1 can be on its way in a flash! Who you gonna call?
Ectoplasm Energy Drink
Do you miss Hi-C Ecto-Cooler and wish there were a new Ghostbusters beverage to take its place? Can you afford overpriced energy drinks? Then you're in luck...kinda. While it won't exactly replace the great Ecto-Cooler, Boston America's
Ghostbusters Ectoplasm Energy Drink
is its tangier, sweeter, clearer younger cousin. I'll admit, I don't partake in energy drinks, so I have nothing of its ilk to compare it to. Someone said that Ectoplasm is close in taste to AMP, but I can't say if that's true or not. The only energy drink I've ever had prior to this one was Red Bull Cola and it was absolutely horrible (maybe regular Red Bull is better, but I don't care to find out). Ectoplasm is better than that, most definitely. It is
currently selling online
for $2.99 a can + $4.99 for shipping ($7.98 total), which makes it a very pricey 8.4 fluid ounces. You can find a full size image of the actual can at
Proton Charging
, and below is a large scan of the can label (it's the best I can do considering it's hard to flatten down and my scanner likes to put glare marks on reflective objects - like plastic).
If you do opt to buy it, there is a way for you to drink the beverage while still keeping the can in as close to mint condition as possible. Instead of opening it up using the pull-tab at the top, carefully insert a pushpin into the bottom. Then remove the pushpin and immediately put a cup under the hole. As this is a carbonated beverage, try to do this after you've let the can settle for a while (it'll get shaken up during shipping). I've found that I actually had to "milk" the liquid out of the can by gently squeezing on the sides, as it wouldn't flow out of the pushpin hole on its own after the initial burst. After all of the liquid is out - or as much of it as you could possibly get out - wipe any liquid off the bottom of the can then put a small piece of adhesive tape over the hole to keep it dry and prevent it from attracting bugs. If you don't want the can, you can still keep the Ghostbusters design as the printing is on a sheet of plastic form-fitted to the can. After you finish the contents, using a razor blade (a box cutter or x-acto knife will do the trick), slice vertically at the seam above the "not for children" warning. Keep the plastic, then recycle the can.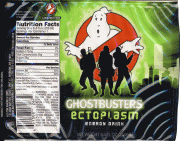 Spanish Chips
Okay, this is something that I did not buy, because they don't sell them in the United States, but they're pretty cool and fit in the overall topic of this post, so I'll squeeze this in. Over in Spain, snack food manufacturer
Risi
is doing a Ghostbusters promotion with temporary tattoos in various bags of their snacks, and a contest in which Spanish residents can win PS3's, Blu-Ray's, etc. Daniel Colacicco just got back from Spain, and brought some bags of Risi snacks back with him. He was kind enough to take some photos and provide them to me, which you will find below. In addition to those photos, you can find a few more over at
Proton Charging
. Gotta love a bag of Cheesy Poofs with a LARGE No Ghost logo smack dab in the middle :-)
No feedback yet
Leave a comment
Please be aware that as an Amazon Associate, I earn a very tiny commission from purchases made though the Amazon links on this site.
(
reviewed here
)
(
MY COMPARISON REVIEW
)
(
AVOID SHIPPINGEASY/STAMPS.COM
)
U.S. eBay (Ghostbusters stuff)
U.K. eBay (Ghostbusters stuff)